AKNEYE ANNOUNCED AS COLLABORATIVE PARTNER OF ORA! FEST 2023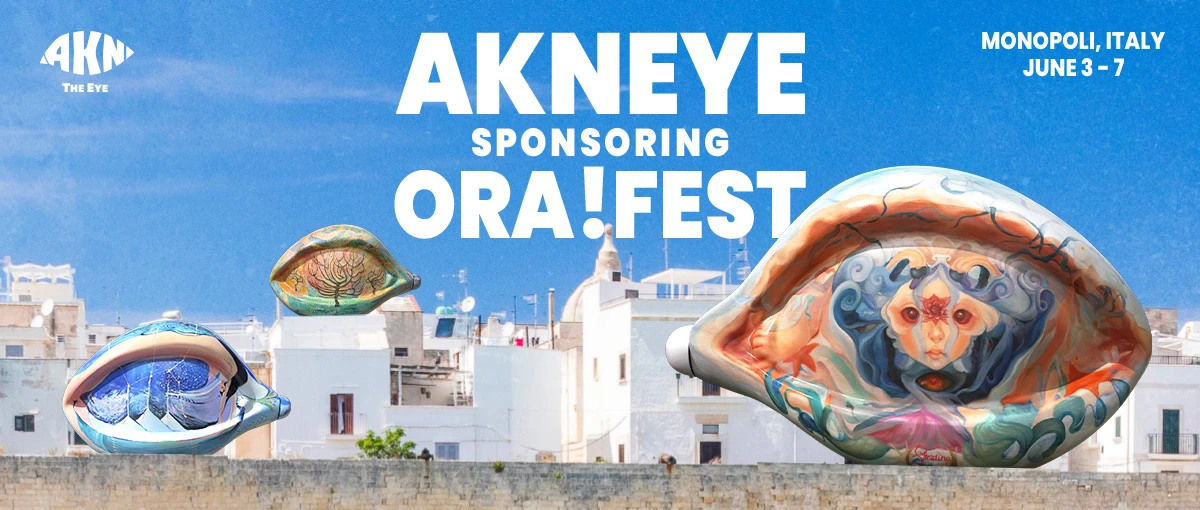 AKNEYE is thrilled to announce its partnership with Ora! Fest 2023, an international film festival bringing together world-class actors, screenwriters, and producers from around the world. The festival will take place from June 3rd to 7th in Monopoli, Puglia.
As a proud collaborator of Ora! Fest, AKNEYE will amaze festival attendees with its captivating eye sculptures, creating an experience that transcends the boundaries of traditional art. These eye-shaped pieces serve as canvases, allowing artists to convey their deepest thoughts and emotions through their unique creations. Visitors to the festival will have the opportunity to discover the imaginative worlds of these talented artists, as their eye sculptures take center stage, evoking a sense of wonder and curiosity. The event will feature the work of a renowned artist who will paint one of AKNEYE's eye sculptures live during the event.
In addition, AKNEYE is set to introduce its long-term business partner ftNFT, a platform that aims to make NFT technology accessible to all individuals. With the help of ftNFT, AKNEYE digitalizes physical artworks, transforming them into non-fungible tokens (NFTs) to provide a unique opportunity for artists who seek new mediums to reach their audiences worldwide. That being said, ftNFT will have the opportunity at Ora! Fest to present its high-tech solutions and services for industries such as art and e-commerce.
As part of the festival's exciting lineup, AKNEYE will host a thought-provoking panel discussion on phygital art. Industry experts and tech visionaries will come together to explore the convergence of physical and digital art forms. This engaging dialogue will explore the transformative power of technology in enhancing artistic experiences and expanding the boundaries of creativity.
Ora! Fest 2023 is set to be a remarkable event, with a strong emphasis on environmental sustainability this year as the festival will adhere to the "green protocols" established by the Italian Festival Association for green cinema. Attendees can anticipate a lineup of film screenings and masterclasses, complemented by an experience that includes carefully selected boutique hotels and beautiful venues.
AKNEYE is an innovative art project that blends traditional artisanal craft with digital technology through eye-shaped sculptures. 
The sculptures are the canvases that let the viewer have a glimpse into the creative minds of the artists who decorate them with their personal thoughts and emotions. AKNEYE not only offers artists the chance to express themselves through physical artwork but also allows them to turn the sculptures into NFTs, creating an opportunity to showcase their work digitally.