UNITY IN DIVERSITY: HOW AKNEYE BRIDGES ARTISTS ACROSS BORDERS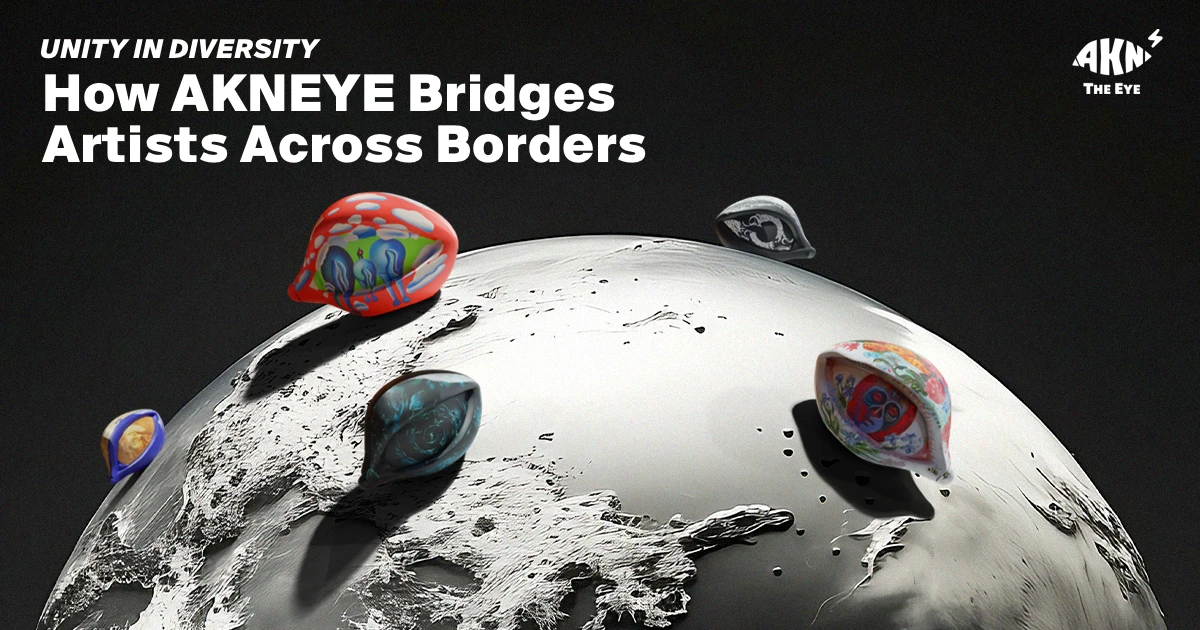 INTRODUCTION TO AKNEYE: THE BIRTH OF SOMETHING SPECIAL

"We found the power of the third eye. Moments later, the idea started shining". This is how AKNEYE's long and exciting journey started.
AKN is a project of eye sculptures, encouraging creativity and the idea of combining art with innovation. From its start, AKNEYE has become a bridge between artists and the virtual world. The vision was simple, but it united millions of complex details that made it possible.
The AKN sculptures carry glass bottles in place of tear ducts that contain various types of liquid, such as 25-year-old Armenian brandy. Aside from being a fancy bottle, the AKN sculptures provide a rather unique opportunity for artists to step in and express their unique thoughts.
AKNEYE provides artists with sculptures to decorate them with their thoughts and emotions. Behind each fragment, each image there is a deep meaning, which can become a reality to amaze and convert human imagination.
AKNEYE serves as a platform for diverse artists and art enthusiasts from all over the world. It has no limitations for artists' cultural or religious backgrounds and as an imagination-driven art project, AKNEYE portrays its dedication to various art forms and ideas that shape uniqueness.
By drawing on AKN sculptures, artists express their true feelings and dictate their stories with distinctive artistic styles. The designs and approaches can be so different, from traditional touches to new, modern styles, most of them still rather unexplored.
AKNEYE is always in search of new collaborations and bright minds. The artists come from all over the world, but they all speak a universal language, an alphabet accessible to those who believe in art and find the best way for its interpretation.
The result of these collaborations lies within breathtaking sculptures that navigate the world and find their best audience and true admirers during world-class events and exhibitions.
AKNEYE has created a new level platform, one where artistic diversity is not criticised, but cherished, and where diverse opinions match and unite for one idea - art. Here, artists can transmit their art into digital pieces. Each AKNEYE sculpture is a physical NFT piece and has its digital twin available on the ftNFT marketplace. The AKNs are also showcased at ftNFT phygital space in Dubai, so famous for its multinationalism and diversified culture.
PROFILES OF SELECTED ARTISTS
As mentioned before, AKNEYE unites in the name of art, fostering international art collaboration with artists from all over the world. The sculptures reach every corner to find their destination and bring pure inspiration to the artist who later turns it into a masterpiece.
Artur Saryan is an accomplished painter, based in Yerevan, Armenia, with his work showcased in international exhibitions around the world, including New York, Washington, Philadelphia, and many European cities.
Artur believes that art can continue to inspire like the stars that still give light after they fade away. "Mirror of Souls", the AKN created by the artist, is the perfect reflection of his ideas and style.
This gifted artist interprets his style as a mixture of all existing art movements, old and new, which results in uniqueness in each piece he creates.
Coco Valdez is another brilliant artist from Ecuador, who has discovered for AKNEYE the perfect recipe of blending innovation with tradition. Coco uses augmented reality and virtual art to transform his pieces into immersive experiences.
This visionary artist challenges the boundaries of traditional culture and invites us to see the world through his eyes.
Calligraphy, interesting writing forms, canvases, murals, mythical scriptures. Ruslan Magomedov or Odintri is a Russian artist that incorporates all these details and techniques in his work.
Ruslan's art captivates audiences worldwide, from prestigious venues of The Tretyakov Gallery in Russia to global exhibitions in the UAE, Turkey, Indonesia, and the States.
By joining the AKNEYE community, Ruslan implemented his abilities to come up with inspiring and innovative ideas and resonate them with our sculptures.
Anna's artistic journey started with the aim to address social issues through art. She is a contemporary Ukranian artist, who specialises in traditional canvas painting, as well as in the latest digital art forms, sculptures, and performances.
Bright colours and gradients are one of the main ways to depict her ideas. Besides, Anna's determination for innovative technologies was first noticed in her early attempts when she showcased her art in digital games, creating 3D clones of her works.
Anna Chekh has international recognition as an artist who has had exhibits in the biggest galleries worldwide, and joining AKNEYE was a gate to open up a world of exciting digital art experiences and conquer new horizons.
Born in a creative family, the Dutch artist Dzanar Abbas-Zade is an accomplished graphic artist, hired by leading names in the music industry. His art reflects the thin line between his extroverted and introverted nature. In this emerging digital age, he finds inspiration in futurism keeping a youthful outlook for life. His works are as pure and phenomenal as sunsets and slow life, spiced with love that keeps it alive.
Dzanar has collaborated with G-Eazy and created an NFT collection featuring the musician. The main scope of this series was to keep their audience engaged, so they feel appreciated and noticed.
Currently working with AKNEYE, Dzanar reflects his futuristic thoughts on AKN sculptures and remains true to his nature and belief in childlike wonders.
You can find many other talented artists whose style, ideas, and presence in AKNEYE have strongly impacted their work, as well as our emerging community.
GLOBAL DIALOGUE THROUGH ART: HOW ARTISTS COMMUNICATE WITH THE AUDIENCE THROUGH AKN

AKNEYE's approach pushes talented artists to explore uncharted creative territories, find cultural convergence in art, and seek fresh connections with audiences.
Recently, a very prominent Armenian artist, Tigran Tsitoghdzyan, also known as Tigrantsi, hosted all art enthusiasts in the gallery of his house museum. Through his performance, Tigrantsi made a special connection with his audience, making everyone feel special and seen.
Yerevan was breathing art that day and Tigrantsi's place became a hub where people enjoyed his artworks and watched his live performance on AKNEYE. That evening, art and the digital world collided, giving birth to a new masterpiece, later to be successfully sold on ftNFT marketplace.
All the AKNEYE sculptures of this artist are available on ftNFT marketplace and ftNFT phygital store. His artistic genius has drawn the attention of many artists and art lovers to AKNEYE, contributing to the growth of the AKNEYE community worldwide.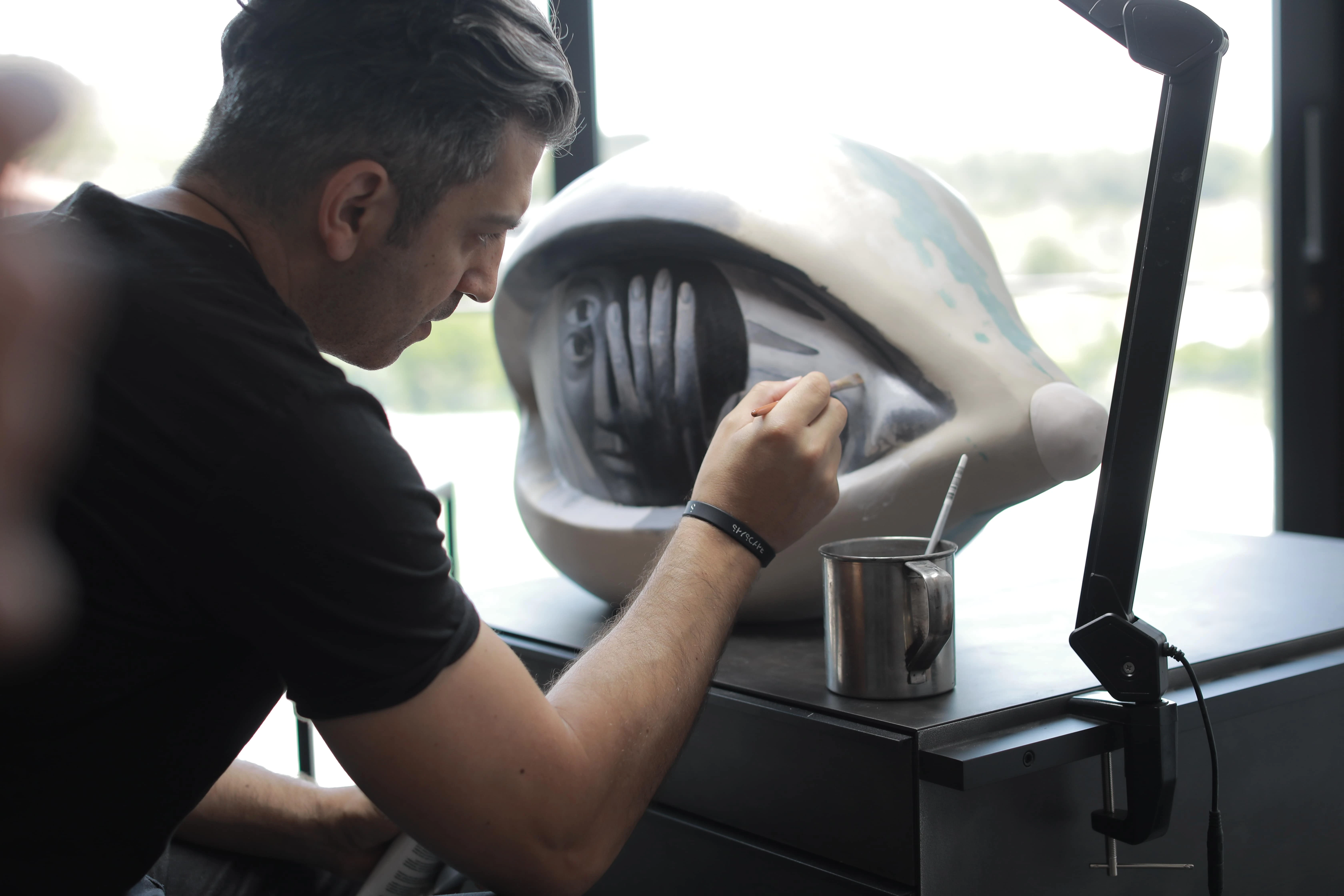 Less than a year, but AKNEYE has already reached incredible heights and milestones. This is the right platform to foster global artists' unity, bring new colours with diverse art forms, and initiate international collaborations.

AKNEYE continues to expand, engaging new artists day by day. There are no limits to art, and there is no final destination for this platform. AKNEYE has proudly adopted "growth" as its vision and goes beyond the limits of the ordinary to prove that art unites, changes, challenges, and discovers.